Your tiny home insurance specialists
CALL US: (719) 602-1200 *Hablamos español*
---

We are more than just names on a business card.
Tiny home owners are like no other and neither are our insurance policies. Whether you just need a policy for your non-traditional home or you are looking for something more comprehensive to cover all your insurance needs, we are here to help.
We can help with insurance for all types of non-traditional homes. We specialize in all shapes and sizes, but focus on tiny houses on wheels, small houses, cabins, DIY structures, yurts, park models, and more!
We offer a wide array of insurance policies to compliment your life.
Our comprehensive range of services
Whether DIY or pro-built, on wheels or a foundation, we can find a way to insure your tiny.
Not all homes are created equally. Why should your insurance be?
Look beyond the big camping store policies and find out how to protect your rolling investment.
Lifestyle is about LIFE and yours is important to us. We'll find you the right personal policy.
We'll help you find more than a slick gimmick with lovable commercial jingles.
Do you build small homes and need insurance to offer your clients? Look no further.
Andrea Paston
Tiny Home Specialist
Jessica Gavino
Tiny Home Specialist
"After searching endlessly for tiny house insurance in my state (my house is not RVIA certified), I found Strategic Insurance Agency, who worked with me to get full coverage on my tiny house. As a full time tiny house dweller, I now am at peace knowing my investment is safe."  
Alana Pulay
"Knowing my tiny house has insurance gives me an incredible peace of mind each night. Even though it didn't cost me a lot to build, should something happen I like the security of knowing I am protected. Martin and his team gave me that security and I am so thankful."
Andrew Odom
"Peace of mind explains how I feel having insurance the second year now for my Just B Tiny house. If you have a tiny house with no insurance, I highly recommend calling Martin Burlingame and the good folks at Strategic Insurance Agency." -Brenda Schwerin, Just B Tiny
Brenda Schwerin, Just B Tiny
A Message from our CEO Martin Burlingame Incredible news from the tiny home insurance program people. a) we are adding Hawaii and Alaska - anyone in those states interested in tiny home insurance b) we can handle VRBO/Short term rental and have a partnership with a...
read more
Kudos
Anuj Agarwal, Founder of Feedspot just reached out and said that our  blog has been selected by esteemed panelist as one of the Top 60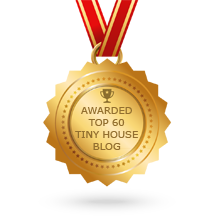 Tiny House Blogs on the web. "This is the most comprehensive list of Top 60 Tiny House Blogs on the internet and I'm honored to have you as part of this!"
We are so excited about this and look forward to putting out even more original content about our  tiny home insurance program.
If you have any burning questions about tiny home insurance, please email Ashley@mystrategicinsurance.com.